Intramuscular Dry Needling of the Lumbo-Pelvic and Lower Extremity
An Evidence and Pathology Based Approach to Improve Clinical Outcomes
Date: 11/05-07
Time: 8 am-5:30 pm
Tuition: $975
Hours:  25 or 2.5 CEUs
Prerequisite: Dry Needling Part I
Who Attends: Physical Therapists

This 3-day seminar will build upon learning that occurred in Dry Needling I through further exploration and application of dry needling techniques. The seminar will expand upon the foundations of dry needling techniques learned in Intramuscular Dry Needling Part I and is also an intensive, hands-on class. Participants will safely handle needle manipulation and acquire advanced motor skills necessary to perform a skilled physical therapy needling session.  Participants should come prepared to practice dry needling and also be prepared to play the part of the practice patient. Intramuscular Dry Needling Part II is the second seminar of a two-part certification program divided into upper and lower quadrants.
Practical observation and testing occurs at the conclusion of each class (Part I & Part II) with a final written exam taking place after the completion of Part II.  The testing is conducted in order to assure that the clinician attains a safe and effective level of clinical practice in DN techniques. **
Learning Objectives:
Upon completion of this seminar, attendees will:
Apply foundational knowledge learned in Dry Needling I, to further advance technique and clinical application
Defend the neurophysiological effects of dry needling on Myofascial Trigger Points and Myofascial Pain Syndrome, based on case examples
Create a communication plan discussing patient risks, benefits, and potential for adverse events of dry needling
Develop a dry needling treatment regimen for the lumbopelvic and lower extremity regions based on common patient complaints, current evidence and physical exam findings to support manual therapy and therapeutic exercise
Design a treatment plan combining manual therapy techniques, coupled with dry needling and neuromuscular training to bring about improved outcomes for lumbo-sacral and lower extremity dysfunction
Improve accurate needle penetration based on neuromusculoskeletal anatomy and targeted patient outcomes
Demonstrate safe needling techniques and decision making as to tissue area selection, needle length and depth of needle penetration
Further, explain the utility of Musculoskeletal Ultrasound for improving dry needling accuracy and the identification of pathological tissues in the knee and foot/ankle
**Participants are responsible for reviewing and understanding their individual state's dry needling scope of practice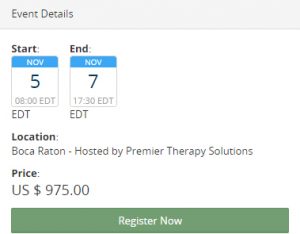 Eric Krell,  Instructor
BScPT          Southwest Baptist University                                            Cert. DN        Dry Needling Certified
DPT             University of St. Augustine for Health Sciences              MTC             Manual Therapy Certified
MSKUS Cert.  Muskuloskeletal Ultrasound Imaging Certified
Dr. Krell is the founder and co-owner of Rocky Mountain Spine and Sport Physical Therapy. He actively manages his outpatient orthopedic rehabilitation company in Denver, Colorado, which opened its first clinic in 2003 and has since grown to 8 locations.
Dr. Krell has effectively treated patients with a variety of orthopedic disorders and has successfully integrated dry needling into his daily practice. He is also certified in Musculoskeletal Ultrasound (MSKUS) imaging to aid in the diagnosis and treatment of many musculoskeletal conditions. In addition, he is one of the first in the United States to perform US-guided dry needling to improve the accuracy and specificity of needling the target tissue.
Dr. Krell received the Distance Education and Training Council (DETC) Famous Alumni award for the University of St. Augustine and was awarded Best Of The Best by Colorado Community Newspapers. With over 22 years of clinical experience, he has taught manual therapy courses nationally and trained many third-year PT students during their clinical rotations in Orthopedic Physical Therapy.