Premier Therapy Solutions
Dr. Lisa Corsa Discusses Mueller Sports Medicine on The Balancing Act
Experience an extensive menu of both modern and timeless treatments:
Pre & Post Operative Care
HOVER FOR DETAILS
PTVIP Concierge Connection
HOVER FOR DETAILS
Aquatic Therapy
HOVER FOR DETAILS
Manual Therapy
HOVER FOR DETAILS
Personal Training
HOVER FOR DETAILS
Sports Performance
HOVER FOR DETAILS

Recover and Revive.
The Mueller REVIVE™ compression sleeves and pump are a compression therapy system that accelerates natural circulation for faster recovery.
Use promotional code, REVIVEWITHDRCORSA20, for 20% off your purchase.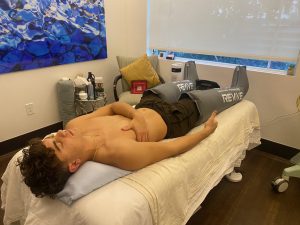 WELCOME TO PREMIER THERAPY
Physical Therapy in Boca Raton

 
Redefine what Physiotherapy is all about.
Our health and wellness center in Boca Raton has been offering an unparalleled concierge approach to rehabilitation for over 20 years.
MORE ABOUT US
With an international physiotherapy reach, we have been enhancing wellness and longevity of our patients worldwide.
Our therapy has no boundaries and provides customized services constantly focused on each patient as an individual. We maintain a commitment to providing the highest quality, one on one physical therapy intervention available.
Our approach addresses a wide variety of medical conditions utilizing a professional treatment philosophy that identifies imbalances in the body and works to restore these optimal movement patterns.
Our wellness center specializes in physiotherapy, aquatic therapy, intensive neurological recovery, sports performance and more.
Premier Therapy Solutions
Feel free to contact us to start the journey together.
What our customers say
Testimonials
YOU transcend the norm or even the "best" of a conventional physical therapist. Thank you for seeing Sophia so quickly, and for your professional skill and passion to help restore her function and life. We are grateful to have YOU and your staff on our case. We will be back Thursday.
Your cheer and kindness are just as healing for me as the high volt stim and many other modalities that are helping to heal my foot. I really appreciate all that you do. Getting to know you is an absolute pleasure.  – XO
Sarah, thank you so much for being so kind and thoughtful. I was so touched by your efforts to escort patients out in that awful storm yesterday. It was so sweet of you to stay out in the nasty weather longer just to bring me my vitamins that I dropped.
I had been to dozens who weren't particularly gifted and I wasn't getting a plausible diagnosis from any of them. Obviously, had I not had any issues I would not appreciate that seminole moment my health shifted- 100% due to Dr. Lisa. She gave me all the time needed to delve deeper into my issues and how my OWN body systems, supplements, exercise, and diet aided and abetted my conditions.
Premier Therapy Solutions is the most professional organization I have ever seen for physical therapy. They will do everything they can to make you better including researching the latest treatment available for your condition. Furthermore, your treatment will be private and tailored to your needs. I highly recommend them, as they are in a class by themselves.
When I came to Boca Raton I looked for someone to give me physical therapy. I am confined to a wheelchair, so I needed to have treatment for my legs and to build my upper body. I was so lucky to have found someone like Lisa who has the experience and knowledge to take care of me. I felt completely comfortable having her take charge of my program and I looked forward to our sessions knowing that I would feel better afterwards. I look forward to seeing her each year. Thank you so much!
As an active person with a full life prior to my injury, I became extremely frustrated and discouraged. I know without a doubt I would have been on a can or other assistive device for the rest of my life had it not been for Dr. Corsa's help. I have never met anyone more passionate and committed to what they do, and her dedication to helping people is truly inspiring. If you are suffering with a chronic condition, please do not hesitate to call…she will change your life!
I want to show my appreciation for giving me back my mobility and greatly lessen my pain. Especially thankful for my therapist Oneida. She knows what helps and listens to my feedback.
Thank you so much
Dear Dr. Corsa,
Stay in touch
Join our email list and be the first to know more about the latest therapeutic advancements, continuing education events and more!