MEET OUR STAFF
Our clinical team is motivated and highly qualified.
We recognize the responsibility that comes with each person's medical needs and believe that a collaborative approach among all therapy disciplines brings a more effective outcome. From ultrasound and laser therapy approaches to masterfully applied hand manipulation practices and cutting-edge equipment, our primary goal at Premier Therapy Solutions is caring for you and treating you with the highest caliber of rehabilitative services to help you heal while achieving your optimal level of health and wellness.
OUR STAFF
Dr. Lisa Corsa, DPT, MSPT, ATC, LAT, CPT, CKTP, LSVT-BIG
Lisa Corsa, DPT, MSPT, Ph.D., ATC/L, CPT, is the founder and chief physiotherapist at Premier Therapy Solutions. Her unique innovations in the field of physical therapy are changing the way people think about sports medicine, prevention, rehabilitation, and the medical side of health and wellness. Her curated out-of-the-box manual physiotherapy protocol approach combined with cutting-edge evidence-based modalities is why people fly in from all over the world to be treated at Premier Therapy Solutions. Patients fly in to see her and have her perform her unique Biomechanical and Neuromuscular reset assessment program as well as her Intense Weight loss and Body Transformation programs. She has curated a one of kind concierge membership program that ensures accountability and success. She believes that not only exercise but that Food is Medicine!! 
Dr. Corsa is referred to as the Navy Seal of Rehab Medicine, actually going into the operating room with her patients to ensure the clinical pathways and protocols are being met successfully. She is determined and passionate about always finding the root cause of someone's pain. She treats high-level athletes both collegiate and professional on the off-season to ensure they are ready to go without the risk of injuries. She practices evidenced-based rehab medicine and is referred to as a clinical scientist who applies the current research! 
She leads a team of highly qualified therapists where the track record of successful outcomes in the most challenging of cases, from the rarest neurological conditions to everyday musculoskeletal aches and pains is second to none. Read the testimonials on this website to see for yourself. Dr. Corsa is often called upon when there is no hope left. Referred to as a "medical detective," one of Dr. Corsa's gifts is solving complex cases. Her ability to bring together all the "pieces of a puzzle" and come up with answers and provides patients and their families the closure and peace of mind they are seeking when they ask the question, "Why did this medical tragedy happen to me?" 
Dr. Corsa is one of a handful of therapists trained in the DonTigny method of successfully treating chronic low back pain and sacroiliac joint dysfunction. When it comes to failed total joint replacements, Dr. Corsa always finds the root of the problem and brings the patient back to full function. She also has much success in treating paralysis with strokes and getting the patient to walk again. 
In addition to orthopedic rehabilitation, Dr. Corsa specializes in the evaluation and complex treatment of patients with neurological conditions, such as Locked-In Syndrome, Bells Palsy, Peripheral Neuropathy, CRPS, Parkinson's disease, and Multiple Sclerosis. 
A graduate of Nova Southeastern University, Dr. Corsa holds both a Doctorate (DPT) and a Master's Degree (MSPT) in Physical Therapy graduating at the top of her class with the highest honors. Additionally, she also holds degrees and certifications from the University of Florida in Sports Medicine, Athletic Training, Biomechanics and Kinesiology, and Telecommunications. She completed her Ph.D. in Manual Osteopathic Mobilization at the National University of the Health Sciences in Toronto, Canada. She is affiliated and holds memberships with The American Physical Therapy Association, the National Strength and Conditioning Association, The National Association of Athletic Trainers, The National Osteoporosis Foundation, the Peripheral Neuropathy Association, American Parkinson Disease Association, and the American Council on Exercise. She is a professional lecturer and health care advocate that can be seen on WPTV Channel 5, and PBS All Health Channel. She also serves as a clinical instructor for many universities intensely focusing on educating doctoral-level students in an intense clinical environment. She serves on the board of the Florida physical therapy Association approving and setting the standards for continuing education in the PT field. She also serves on the board of several medical device companies contributing to research. She is passionate about lifelong learning, is always reading her journals on her "day off" and baking Vegan goodies for her patients.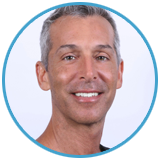 Dr. Cory Altabet, LMT
Dr. Cory Altabet utilizes a unique muscle-practic technique that allows for him to identify somatic dysfunctions and thus correct the myofascial tensegrity and biomechanical rhythm through manual massage. Without high-velocity manipulation (cracking), he mobilizes the joints, associated muscles, and fascia to balance the body mechanics and create an enhanced physiological environment for healing and well-being.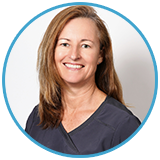 Tracy Guy, PT, Orthopedic Manual Therapist
As a former Physiotherapist traveling around the world with Cirque du Soliel, Tracy plays an integral role within our facility as an orthopedic manual therapist. Her international experience has allowed her to manage some of the most complicated muscular skeletal issues. With a collaborative approach to all patient cases, Tracy's understanding of the human body has brought countless individuals back to health. You can count on our capable team to be there for you.
Justin Espartero, Rehab Technician · Certified Personal Trainer
Justin started with us as an intern from Florida Atlantic University, requesting to learn more about physical therapy and the applications from exercise science. After an entire summer of interning, Justin realized that he had a passion for the medical applications of exercise and began working for us as a rehab technician, offering an array of education from Florida Atlantic University's exercise science program. He also provides intense workouts to our staff and patients! In his free time, Justin enjoys to work out and push himself physically to better understand the human body from his own perspective.
Denise Da Pra, M.A., CCC-SLP
Denise is a speech-language pathologist with over 30 years of experience in hospital, medical, and academic settings. She earned her Bachelor of Arts and Master of Arts degrees from the University of Florida. Denise is a member of the American Speech-Language and Hearing Association.
Sarah Esposito, RT, Front Office Manager
Sarah is about to graduate from Florida Atlantic University's honor program, holding a degree in psychology while completing her additional bachelor's in neuroscience. She offers experience in neurological rehabilitation and helps to manage the day-to-day patient operations while studying to be a neurologist! You may see her at the front desk, in your treatment room, or within a patient conference. Wherever she is, you will see her with a giant smile on her face! In her free time, she is studying for her MCAT, running around Delray Beach, perfecting vegan recipes, or doing beach yoga.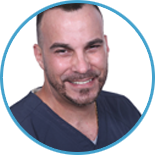 Leo Gomez, PTA
Leo is a physical therapy assistant who offers both worldly experience and medical experience. Prior to moving to the U.S., Leo lived in Cuba and in Spain working as a registered nurse and respiratory therapist. Now, he demonstrates his passion for medical well-being by providing excellent rehabilitative methods and training sessions filled with high-energy support. Leo is also fluent in Spanish and has a passion for neurological and respiratory therapy. In his free time, Leo enjoys spending time with his wife and daughters and loves to work out.
Andrew Zima, RT, Certified Personal Trainer
Andrew is a rehabilitation technician and certified personal trainer having joined the staff of Premier Therapy Solutions when he started out as an intern in January of 2019. He was brought on full-time upon graduating from Florida Atlantic University (FAU) Summa Cum Laude in May of 2019 with a Bachelors of Science in Education (B.S.E.) with a major in Exercise Science and Health Promotion.
Powered by the knowledge he gained from both FAU and Premier Therapy Solutions, Andrew went on to obtain his certified personal training license through the American College of Sports Medicine (ACSM). His passion is using exercise in a safe and therapeutic way to achieve optimal health. Andrew says, "I love this job because this is exactly what I'm doing every day as I use what I learned in college while continuing to learn through the brilliant mentors I have around me at Premier Therapy Solutions. They are constantly seeking the latest evidence-based research to use in our practice."
Andrew is pursing graduate school so he can get his Doctorate of Physical Therapy degree and continue with his passion of helping people as a licensed physical therapist.
Dr. Jennifer A. House, DOM, NCCAOM, and a NADA Specialist
Jennifer A. House DOM is nationally certified by the NCCAOM in acupuncture and herbal medicine. Upon completing a bachelor's degree in Psychology from the University of Texas at Austin in 1996, Dr. House worked in various areas of healthcare including substance abuse, mental health, and assisting physical and occupational therapists. She spent many years working with children with autism, down's syndrome, and cerebral palsy. In 1999, she interned at Quan Yin in San Francisco, a non for profit holistic healing center that mainly treats HIV positive patients. This led to her fascination of Chinese Medicine. In 2003, she obtained a bachelor's in health science and a master's degree in Oriental Medicine from the Atlantic Institute of Oriental Medicine.
She also has certifications in homeopathy injection therapy and NADA (National Acupuncture Detox Association). In addition, she has had additional training in fertility and neuroscience. Dr. House has been treating patients in South Florida for 15 years.
Tracy Reitbauer, LMT
Tracy is a massage therapist and has been healing people with ailments and injuries through medical massage therapy since obtaining her massage therapy license in 2010. She graduated top of her class from the American Institute of Massage and Wellness in Margate, Florida. She specializes in medical massage, injury rehab, and pre- and post-surgical therapy. Tracy techniques have helped many people avoid surgery, correct postural imbalances, and dramatically reduce pain levels. Her passion for what she does, along with a desire to help every person she meets has led Tracy to pursue advanced educational therapy courses including neuromuscular massage, myofascial release, scar release, trigger point therapy, manual lymphatic drainage, and MPS (microcurrent point stimulation) therapy.
Before joining Premier Therapy Solutions, Tracy managed a massage clinic with a roster of more than 1,400 clients and a staff of 40. She oversaw all client therapy protocols and staff trainings while maintaining her own private clientele.
Tracy is passionate about giving the best personalized care and treatment to each person and is honored to be part of the amazing team at Premier Therapy Solutions.