MEET OUR STAFF
Our clinical team is motivated and highly qualified.
We recognize the responsibility that comes with each person's medical needs and believe that a collaborative approach among all therapy disciplines brings a more effective outcome. From ultrasound and laser therapy approaches to masterfully applied hand manipulation practices and cutting-edge equipment, our primary goal at Premier Therapy Solutions is caring for you and treating you with the highest caliber of rehabilitative services to help you heal while achieving your optimal level of health and wellness.
OUR STAFF
Dr. Lisa Corsa DPT, MSPT, ATC, LAT, CPT, CKTP, LSVT-BIG
Lisa Corsa, DPT, MSPT, Ph.D., ATC/L, CPT, is the founder and chief physiotherapist at Premier Therapy Solutions. Her unique innovations in the field of physical therapy are changing the way people think about sports medicine, prevention, rehabilitation, and the medical side of health and wellness. Her curated out-of-the-box manual physiotherapy protocol approach combined with cutting-edge evidence-based modalities is why people fly in from all over the world to be treated at Premier Therapy Solutions. Patients fly in to see her and have her perform her unique Biomechanical and Neuromuscular reset assessment program as well as her Intense Weight loss and Body Transformation programs. She has curated a one of kind concierge membership program that ensures accountability and success. She believes that not only exercise but that Food is Medicine!! 
Dr. Corsa is referred to as the Navy Seal of Rehab Medicine, actually going into the operating room with her patients to ensure the clinical pathways and protocols are being met successfully. She is determined and passionate about always finding the root cause of someone's pain. She treats high-level athletes both collegiate and professional on the off-season to ensure they are ready to go without the risk of injuries. She practices evidenced-based rehab medicine and is referred to as a clinical scientist who applies the current research! 
She leads a team of highly qualified therapists where the track record of successful outcomes in the most challenging of cases, from the rarest neurological conditions to everyday musculoskeletal aches and pains is second to none. Read the testimonials on this website to see for yourself. Dr. Corsa is often called upon when there is no hope left. Referred to as a "medical detective," one of Dr. Corsa's gifts is solving complex cases. Her ability to bring together all the "pieces of a puzzle" and come up with answers and provides patients and their families the closure and peace of mind they are seeking when they ask the question, "Why did this medical tragedy happen to me?" 
Dr. Corsa is one of a handful of therapists trained in the DonTigny method of successfully treating chronic low back pain and sacroiliac joint dysfunction. When it comes to failed total joint replacements, Dr. Corsa always finds the root of the problem and brings the patient back to full function. She also has much success in treating paralysis with strokes and getting the patient to walk again. 
In addition to orthopedic rehabilitation, Dr. Corsa specializes in the evaluation and complex treatment of patients with neurological conditions, such as Locked-In Syndrome, Bells Palsy, Peripheral Neuropathy, CRPS, Parkinson's disease, and Multiple Sclerosis. 
A graduate of Nova Southeastern University, Dr. Corsa holds both a Doctorate (DPT) and a Master's Degree (MSPT) in Physical Therapy graduating at the top of her class with the highest honors. Additionally, she also holds degrees and certifications from the University of Florida in Sports Medicine, Athletic Training, Biomechanics and Kinesiology, and Telecommunications. She completed her Ph.D. in Manual Osteopathic Mobilization at the National University of the Health Sciences in Toronto, Canada. She is affiliated and holds memberships with The American Physical Therapy Association, the National Strength and Conditioning Association, The National Association of Athletic Trainers, The National Osteoporosis Foundation, the Peripheral Neuropathy Association, American Parkinson Disease Association, and the American Council on Exercise. She is a professional lecturer and health care advocate that can be seen on WPTV Channel 5, and PBS All Health Channel. She also serves as a clinical instructor for many universities intensely focusing on educating doctoral-level students in an intense clinical environment. She serves on the board of the Florida physical therapy Association approving and setting the standards for continuing education in the PT field. She also serves on the board of several medical device companies contributing to research. She is passionate about lifelong learning, is always reading her journals on her "day off" and baking Vegan goodies for her patients.
Leo Gomez, Senior Physical Therapy Assistant
Leo has been working for Premier Physical Therapy for seven years and is a senior physical therapy assistant. He has a wide knowledge in healthcare worldwide from receiving his RN from MCF in Cuba, RRT from SSGG Sant Pau in Spain. Before joining our team, he gained experience working at Morse Life Health System, Spine Center of the Palm Beach, and Signature Health Care of the Palm Beaches. On his downtime, Leo spends time volunteering at Vinceremos Therapeutic Riding. When Leo helps people overcome their limitations, it gives him great joy to see them feel better. The exercises he comes up with for his patients are both beneficial and fun to make their healing process more enjoyable. In his free time, he is spending time with his family, playing volleyball, and roller skating.
Delanie Beard, Front Office Manager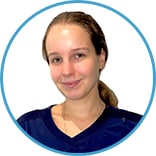 Dr. Alexandria Papadimtrou Doctor of Physical Therapy
Dr. Aleksandra Papadimitriou, also known as Dr.Sasha to her patients, is an energetic , passionate physical therapist with a Doctorate of Physical Therapy from Dominican College. She received her Bachelor's in Exercise Science with a Minor in Health Administration from Florida Atlantic University in 2016. Before working with Premier Therapy Solutions, Aleksandra practiced physical therapy at several medical facilities such as White Plains Hospital, Spectrum Clinic, SportsCare Clinic, and Orange Ulsters Boces. Her goal is to make patients as healthy as possible by providing them with the highest quality care possible. Aleksandra also holds a membership in the American Physical Therapy Association. What brings her great joy is how she can go to work every day and be a part of team that always strives to put patient care first. On her spare time, Aleksandra enjoys taking walks with her husband and new puppy as well as spending time with her family.
Josy Gonzalez, Front Office Coordinator
Josy is the jack of all trades, currently working as our Front Office Coordinator, as well as our Certified Personal Trainer (CPT) and completing her Corrective Exercise Specialization Certificate on 2022. You may also see her during your treatment as the lead rehab technician along with the other therapist. Josy graduated from Florida Atlantic University on 2019 with her Exercise Science and Health Promotion Bachelor degree and is currently back in school to complete her last couple of credits to begin her journey as a Doctor of Physical Therapy Student. She is looking to start on Fall of 2022 or Spring 2023. Josy has been part of the team since May 2019 as an intern and from there she landed a job as a technician on August on 2019 and has been growing immensely in this clinic. During her college career Josy participated and also coordinated events towards Breast Cancer Awareness and Children Miracle Hospital. If Josy is not at the clinic training a patient or taking care of you at the front you will most likely see her at the gym. She loves spending time with her family and friends.
Steven Aja, Physical Therapy Assistant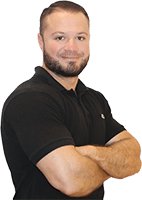 Steven is one of our Physical Therapy Assistants at Premier Therapy Solutions and started working with us 2021. He earned his Associate degree from the Praxis Institute. Steven has gained extensive experience from working at Fyzical therapy and balance centers and CORA Physical therapy. He enjoys making a positive impact on the quality of life of his patients and is dedicated to helping them attain their goals. He ensures that proper exercise mechanics are being used so that people achieve their rehab goals. Steven is a huge football fan and enjoys working out at the gym and spending time with his family and friends.
Dr. Jennifer A. House, DOM, NCCAOM, and a NADA Specialist
Dr. House has been practicing as an acupuncture physician for 18 years. She received her Bachelors in Psychology from the University of Texas and Masters of Oriental Medicine from the Atlantic Institute of Oriental Medicine. Before working with Premier Therapy Solutions, Dr. House has been practicing for many years with other physical therapists, chiropractors, and psychologists. Dr. House holds certifications in homeopathy injection therapy and National Certified by NCCAOM (non-profit) as well as holding a membership in the National Acupuncture Detox Association. She is passionate about using a medicine that brings into balance the body's innate ability to heal. Dr. House enjoys spending time with her family, reading, traveling and being in nature
Susan Rosino, Registered Nurse (R.N)
Susan Rosino is a Registered Nurse (R.N). She got her degree at Methodist Hospitals School of Nursing in Philadelphia and her Bachelor of Science in Nursing at the University of Pennsylvania. She is also a Physicians Assistant from Temple University. Susan has been a registered nurse for 20 years and has been in varied fields from surgery to psychiatrist to occupational health. Susan has been in the Premier Therapy Team since August of 2021. Before coming to Premier Therapy Solutions, Susan was working at Walt Disney Occupational Health and Guest Health Services. Susan is very involved in animal welfare/rights with various organizations and grass-roots organizations. Currently she is involved in humanely trapping and sterilizing feral cat colonies. On her free time, susan loves to go ballroom dancing, traveling and cruising and spending time with her family and her beloved cats.
"In all of my years practicing nursing, I have never experienced a doctor so dedicated and devoted to her patients. She sees and treat the whole patient, not just the alignment. Dr. Corsa delves into the dietary and sleep habits, external stressors, family supports, etc. Everything that touches her patients is important to her in bringing them to the maximum medical potential. Their improvement is astounding. I learn something every time I work with Dr. Corsa"
Irene, Occupational Therapist
Irene is a licensed occupational therapist and physical therapist assistant with 12 years of experience in skilled nursing facilities and at least 2 years in home health settings. She started working with Premier Therapy Solutions back in July 2020. Irene obtained many degrees throughout her career such as her Associates Degree of Physical Therapist Assistant, Bachelor's Degrees of Health Science, and Master's Degree in Occupational Therapy. Irene finds great fulfillment in helping people get better and watching them regain their independence. Additionally, she consistently puts in effort and work to perform a wide range of treatment options for her patients. In her free time, she enjoys traveling and spending time with her loved ones.
Maria Victoria Nuñez Porta, Physical Therapist

Born in Caracas Venezuela in 1971
With 29 years of experience as a Physical Therapist, graduated Cum Laude in 1994 from "Rehabilitation University College May Hamilton" (Venezuela), where I worked for 8 years as a Physical Therapy Instructor, Proprioceptive Neuromuscular Facilitation (PNF ) instructor, Signature Coordinator and Special Degree Thesis Coordinator, also participating as Tutor and Jury for several Degree Thesis.
3 years' experience working as physical Therapist at "Centro de Atención Integral al Sordociego en Venezuela CAISVE" with deafblind patients: development of communication skills, sensory & motor development, orientation & mobility, trained by the "Heller Keller Foundation".
Specialized in Manual Therapy, with 3 years of studies with the "School of Osteopathy from Madrid", and continued studies with Lic Andrzej Pilat, Gines Almazan, among others.
Trained Certified Golden Reiki International practitioner, and bioenergetic therapist by Dr Ayleen Orta (Venezuela) ñ
With a background in health studies, music, and bioenergetic studies, my passion since child is to serve others, with an Integrative approach based on promoting healing by living healthier.
Marjorie Bazile, PTA

Marjorie is a passionate PTA with an extensive
background in sports training,
balance training, and post-operative orthopedic surgery rehab. She earned her PTA degree from Keiser University. She enjoys getting her patients back to doing what they love safely. Marjorie loves outdoor sports like kayaking and volleyball.
Patty Barreto, Floor Manager & Rehab Tech
Kristen Leddy, Medical Aesthetician
Christine Ruiz, Rehab Tech